Overview
ExtraHop and CrowdStrike together provide full-coverage security for when seconds matter. Inventory all IoT and unmanaged devices. Detect network and endpoint attack behaviors. Correlate threat intelligence. Automatically quarantine impacted devices to stop breaches faster.
Integrate NDR with EDR to Stop Breaches Faster
The seamless, turnkey integration between ExtraHop Reveal(x) 360 network detection and response with CrowdStrike Falcon endpoint detection and response gives you full-coverage security so you can stop breaches faster.
By integrating NDR and EDR, you'll gain rapid detection, investigation, and response capabilities, such as:
Respond in real time to auto-contain network-based threats, including ransomware, command & control behavior, unauthorized data movement and remote access patterns, data exfiltration, credential abuse, and many others.

Correlate Reveal(x) 360 detections with Falcon X threat intelligence for fast, seamless IOC investigation

Correlate network and endpoint attack details and forensics for full-coverage detection, investigation, and response

Discover and identify all devices on the network, and identify those that are not yet instrumented with the CrowdStrike Falcon Agent.
To integrate Reveal(x) 360 with Falcon X, visit the CrowdStrike Store in the CrowdStrike Falcon UI, and find the Reveal(x) 360 app. The Reveal(x) 360 app is the only NDR app in the store, and can be found in the Network Security and XDR categories, as well as by searching "ExtraHop".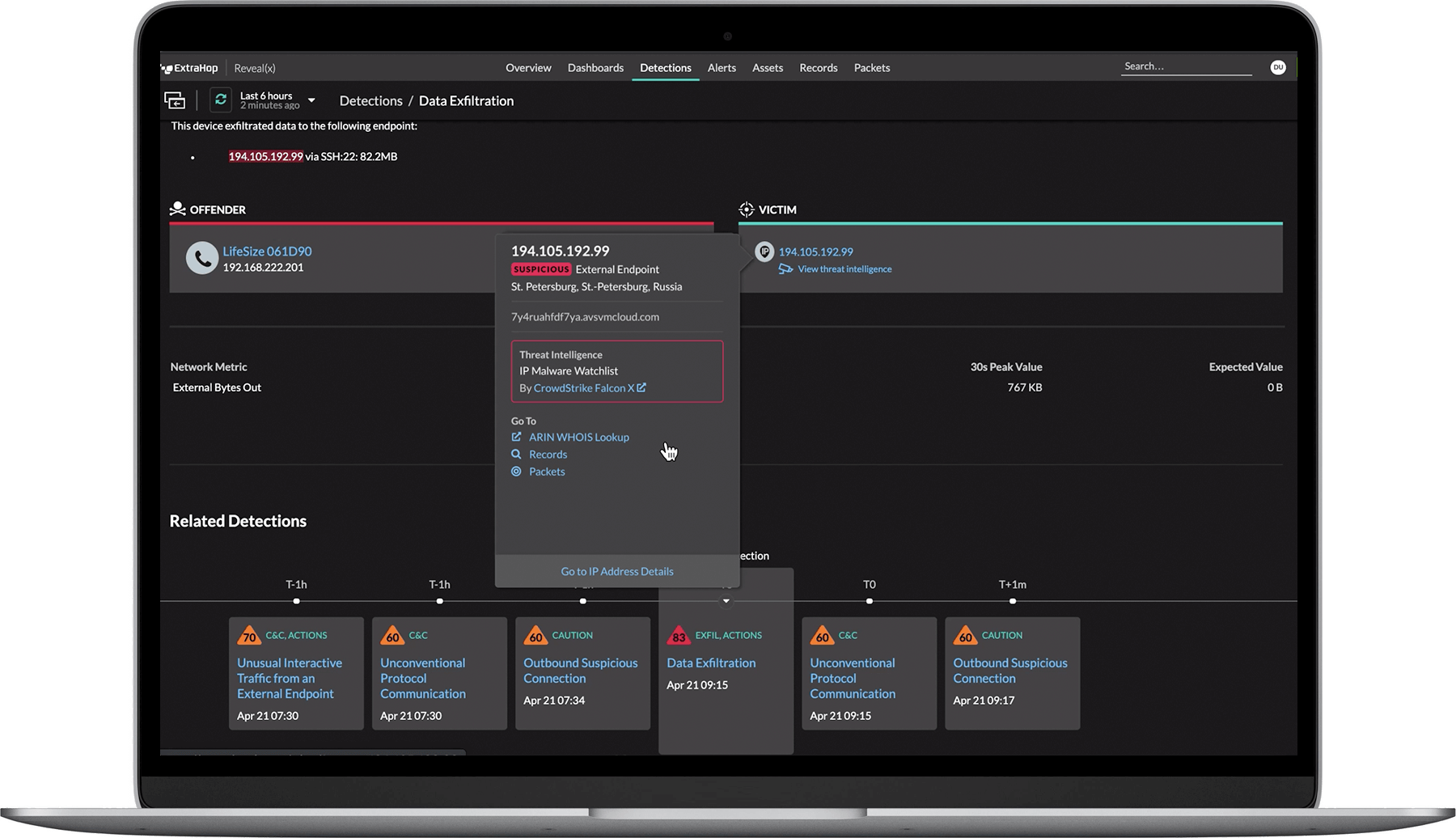 Key Features
Real-time response: Automatically contain both network- and endpoint-based attacks
Secure every device: Continuous inventory of unmanaged IoT, BYOD, mobile & remote
Complete MITRE ATT&CK Coverage: cover the full attack chain with endpoint and network TTPs
Unified threat intelligence: Share IOCs, detections, and forensics across EDR & NDR solutions
To get started with Reveal(x) 360 and Falcon X, visit the CrowdStrike App Store by logging into your Falcon UI. To enable the real-time response integration between Reveal(x) and CrowdStrike Falcon, download our bundle here to get started.
Through this partnership, CrowdStrike and ExtraHop are providing customers the ability to identify and respond to malicious activity across the entire attack surface with a fully cloud-native integration that allows them to adapt with speed and agility.
Matthew Polly
VP WW BD & Channels, CrowdStrike